Let's order a commission!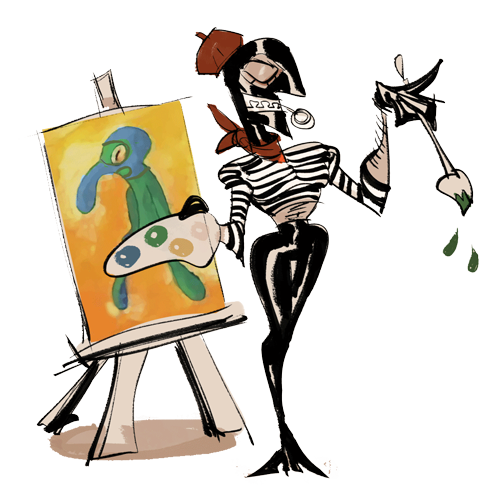 First, you must read my Terms of Service. Check out my menu and gallery pages too. You can ask about different sizes, mediums, and styles not presented on the menu page.
Consider whether I'm the right artist for you! Do you like my chaotic and exaggerated art style? Do you want me to draw weird characters and anatomically funky creatures? I love to work with clients to get what they want, but I work best with freedom of my personal artistic expression.
Thought about it? Cool! Here's my standard procedure for commissions:
1. Email me at contact@scumsuck.com with the subject "Commission Quote", or fill out my commission form.
Please do not message me via social media, I WILL lose your message.
I will generally respond within 1-4 business days. If I do not respond, feel free to email me again to make sure I don't lose your message.
2. If you emailed me, the text of your email should include basic info:
Type of commission:
See the menu.
Canvas Size:
Traditional comes in 9x12, 11x14, 13x17. Digital can be any size.
Subject:
What do you want me to draw for you?
Headshot, bust, or full-body:
No cost difference. Headshots and busts will have proportionately more detail than full-body art.
This information will help me quote a price. I'll be happy to answer any n' all questions, and will let you know if my queue is open.
This information is part of the commission form, so if you use the form you won't miss anything.
3. For extra credit, you can include more information.
Subject elaboration: Is there a story you'd like me to tell? What vibes, feelings, or emotions would you like me to portray? If it's a character you like, what do you like about them? Are there any details that should be on the art, like freckles on a certain spot?
Pose: You can draw a stick figure doodle, send me reference images of art or photography, or I can brainstorm one for you.
Character reference: Characters with no drawn reference will be considered a character design commission and thus incur a design fee.
Shipping: Would you like mail shipping for the physical drawing? Or physical prints of digital drawings?
Privacy: By default, I will post commissions on social media with no attribution. You may request to be attributed as the commissioner. You may also request to keep the commission private, which will incur an additional fee.
Tattoos: Please give me the size of the tattoo in inches, and where on your body you'd like the art. If you want a color tattoo design, let me know what colors you want. If you have a tattoo artist in mind, please send me their website/social media so I may brainstorm how I shall work my art style with theirs!
4. If I agree to your commission, I will quote you a price and ask for the email you use for invoices.
I use Square for invoices. Square does not require you to sign up, but it does require a credit card or bank account.
P*ypal can be used as a secondary option, but I prefer not to use P*ypal because they randomly freeze accounts and I will not use it for NSFW art.
Payment plans can be worked out for commissions over $100.
Once your invoice is paid, I will start sketching!
5. I will send you a sketch for confirmation.
Let me know any changes you'd like at this stage, and I'll happily accommodate them. The earlier we make changes, the better. Beyond the sketch phase, I cannot make major changes like altering the entire composition, pose, or size of the character.
In the case that I draw multiple sketches for you to choose from, you may choose one pose or combine the poses to proceed to the next phase. If you'd like to purchase one of the unchosen sketches to finish as a separate commission, you may do so at a later time.
Once you confirm the sketch, I will go on to the inking phase.
6. I will continue to send you process photos or screenshots at the inking phase.
You may request up to three changes at this phase. These changes should be reasonable for inking, like adding small details, as I cannot erase traditional ink.
I will give more leeway for major changes for larger commissions like dakimakura, but the changes may only be for the digital image if they cannot be changed on the traditional ink.
If your commission type contains color, I will continue to the color phase after you have confirmed the inks. You may request up to three changes at this phase. These changes should be reasonable for coloring, such as altering the hue, saturation, and lightness.
7. Once you have confirmed the final drawing, and if I haven't already sent it, I will send the final art!
Your final image will come in 300dpi JPG or PNG format depending on what best fits the art.
If you chose the mail shipping option, I will mail out the traditional art to the address you filled out on your invoice. If you haven't given me your address yet, I will ask you for your mailing address.
6. Done! Enjoy your art, and feel free to repost the commission art and use it as an icon/banner.
Should you repost the art, credit me as SCUMSUCK, and/or link to my social media (@SKUMSUCK) or my site (SCUMSUCK.com). Please refer to me as SCUMSUCK in any art of mine that you may repost, and do not refer to me with gendered terms.
If ya like how your commission came out, feel free to tip me on ko-fi!